Synopsis
If you want good food and great service but don't want to wait in a long line, Broiler Express is the place for you.
Review
I was amazed to see that this place has finally opened. Who would have known? It's been an empty building for so long that I wouldn't believe it was open except for the fact that someone I trusted ate there.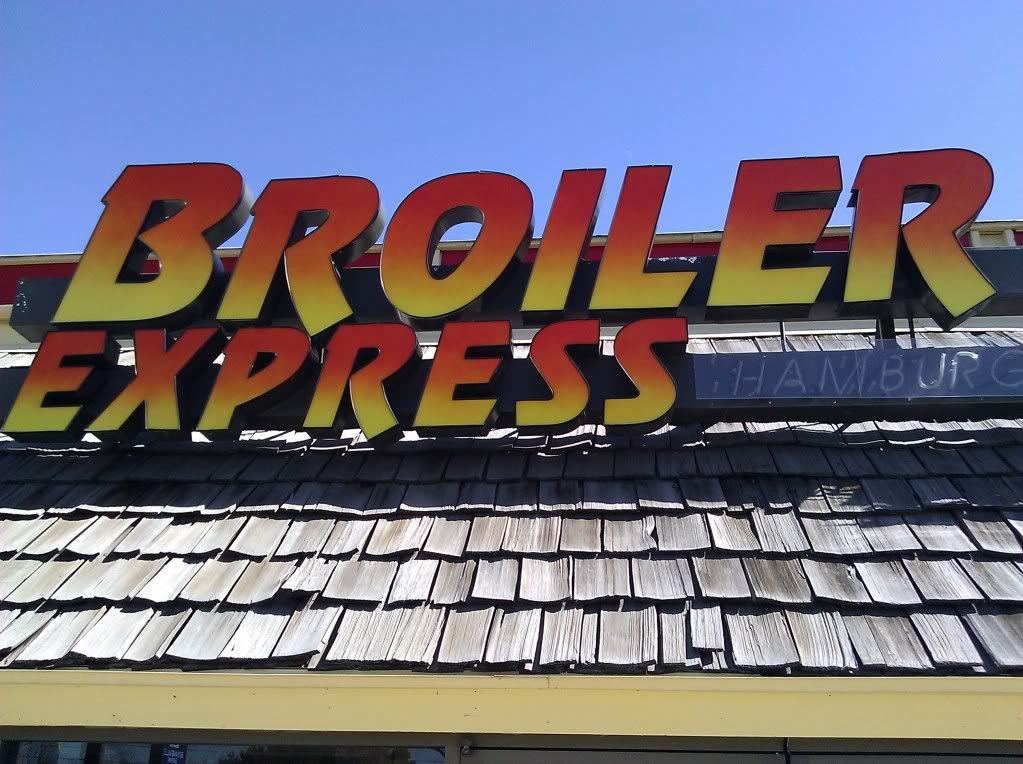 Although open, it's still very vacant inside. There were four other customers in there which, from what I've been told, was actually quite busy for this location. Since no one else was in line, I stood up to the register and placed my order. The Butch Cassidy burger is one of their most popular ones and once I heard it included swiss cheese I decided to go for it.
I'm not one for a western burger. I like the idea of an onion ring on a burger; I'm not such a fan of barbecue sauce on a burger. In spite of that bias, though, I did enjoy this one. The processed swiss cheese is something I rather enjoy and the onion ring fit nicely. On some western burgers the onion ring can get in the way, sometimes it's so large that it pretty much is the burger and not an accessory to it. But on the Butch Cassidy burger, it belongs.
The onion rings in general were excellent. These onion rings are more onion than they are batter. Deep fried to a golden brown, they have surprisingly little grease. The container had little if any grease left on it after they were eaten. Of course, my hands had some; you can't expect to eat onion rings without any grease, but they are close to the least greasy ones I've had. The fry sauce was pretty good as well. I look forward to ordering them the next time I come.
Perhaps its because there isn't a lot of customers, but the service was very good as well. On the way out the door the person who took my order asked me how I liked my burger, and the person bringing it out offered to get me fry sauce and / or ketchup from the condiment bar that I overlooked on the way over. This is some of the best service I've had at a fast food place. Because of the service and the good food, I'm looking forward to my next visit.
Cost and Big John Rating
$5.76 = Large Butch Cassidy Burger Combo includes Butch Cassidy Burger, Onion Rings, and a Large Drink.
Service = 9
Ambiance = 8
Quality = 8
Taste = 8
Price Rating = 8.3
Big John Rating = 8.6
Notable URLs