Review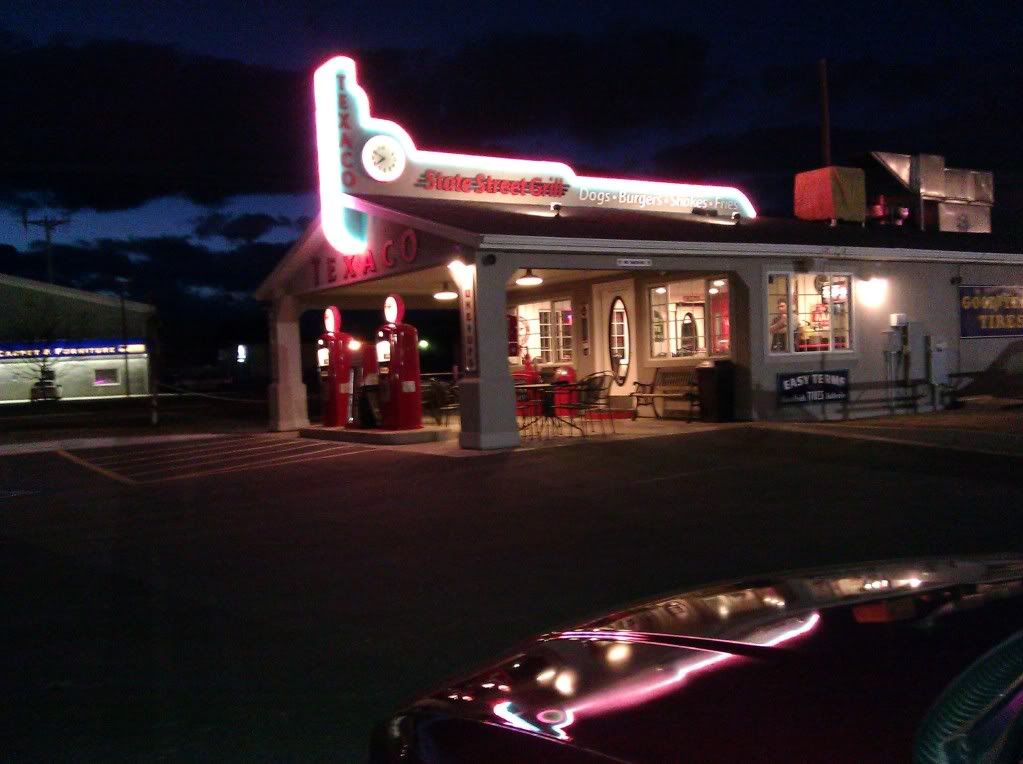 State Street Grill is definitely bigger than it looks. Not only was I surprised upon entering to see it bigger than I expected it to be, but I also found that the menu was bigger than expected as well. I've driven past here several times and wanted to stop by but for whatever reason didn't make it until now. I'm glad I stopped.
Although I've always wanted to come, it wasn't until some friends of mine dropped by and really enjoyed it that I decided to give it a try. According to them, this place makes the best onion rings they've had (and they know onion rings). With a review such as that, I couldn't wait another week to stop by.
I arrived after the dinner traffic and ended up having the entire place to myself (which was nice). They have two flat screen TVs on the corners near the entrance for their guests to watch while dining (and I was able to choose what I wanted to watch). The whole setup has a 50's car shop ambiance but clearly was designed to be a grill. I really like their theme; it is a small place (which I think is fitting for a grill), but it feels (to some degree) like you've gone back in time to when things were a bit smaller and more personable. I really like the design; it suits the place well.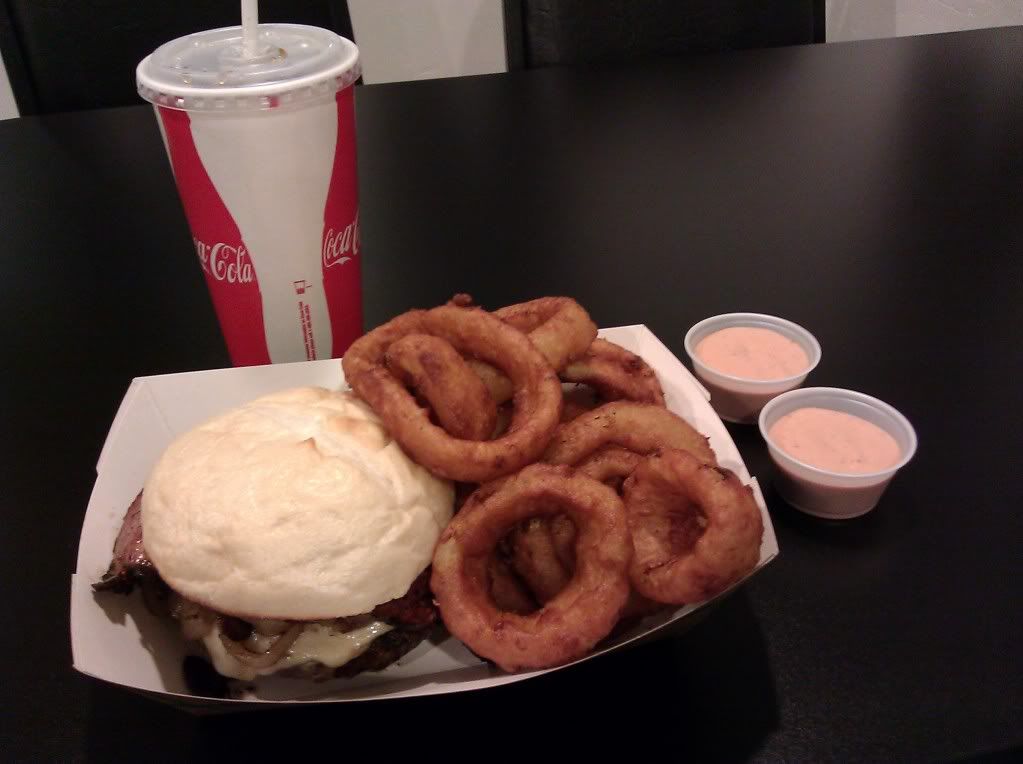 For my order I went with the Boston which is their version of a pastrami burger. I also ordered their onion rings and topped it off with a brownie a la mode. You can order different kinds of cheeses on it; I went with the swiss cheese. As soon as I placed my order, the grill fired up and the burger was cooking. These burgers are made fresh so it took a little bit to make it, but it was worth the wait. The pastrami on the burger seems thicker than normal and really has some good seasoning on it. The bun looks rather scary (I thought it was doughy when it first came out) but it was well cooked, very soft and went well with the sandwich. I don't mind a greasy sandwich (I know some do) and this sandwich is very greasy but I think it really enhanced the flavor.
The onion rings were really good. Fair warning -- they are more batter than onion and greasy as well, but I enjoyed them. Even though they were greasy they weren't soggy which is something I really appreciated (I'm not a fan of soggy fries or onion rings). The fry sauce has extra flavors in it and goes well with the onion ring.
As for the brownie a al mode, I thought it was excellent. The brownie itself isn't something that I would like just by itself but it combines very well with the ice cream and chocolate syrup. They put the brownie in the microwave before adding on the ice cream and syrup so when it was served the soft ice cream melted over the brownie and tasted really good. I prefer my ice cream soft and just starting to melt -- I think that kind has the best flavor. And their ice cream is served soft.
In general I really liked this place. Some of the lunch crew has eaten here as well and enjoyed it, too. Can't wait to try it again!
Cost and Big John Rating
$9.48 = Boston Buger Combo (including fries and drink) + 0.50 for the onion rings instead of fries
$2.47 = Brownie A la mode (with combo meal; $3.47 without)
Ambiance = 9
Quality = 9
Service = 9
Taste = 9
Price Rating = 9.0
Big John Rating = 9.0
Notable URLs