Synopsis
Amazing Philly Cheese steaks, good prices, and a great location makes Moochie's Meatballs & More! a winner.
Review
I saw this place on Diners, Drive-ins and Dives with Guy Fieri and couldn't resist trying it out. After all, I'm always in the mood for a good Philly Cheese steak and apparently this is the place to get one.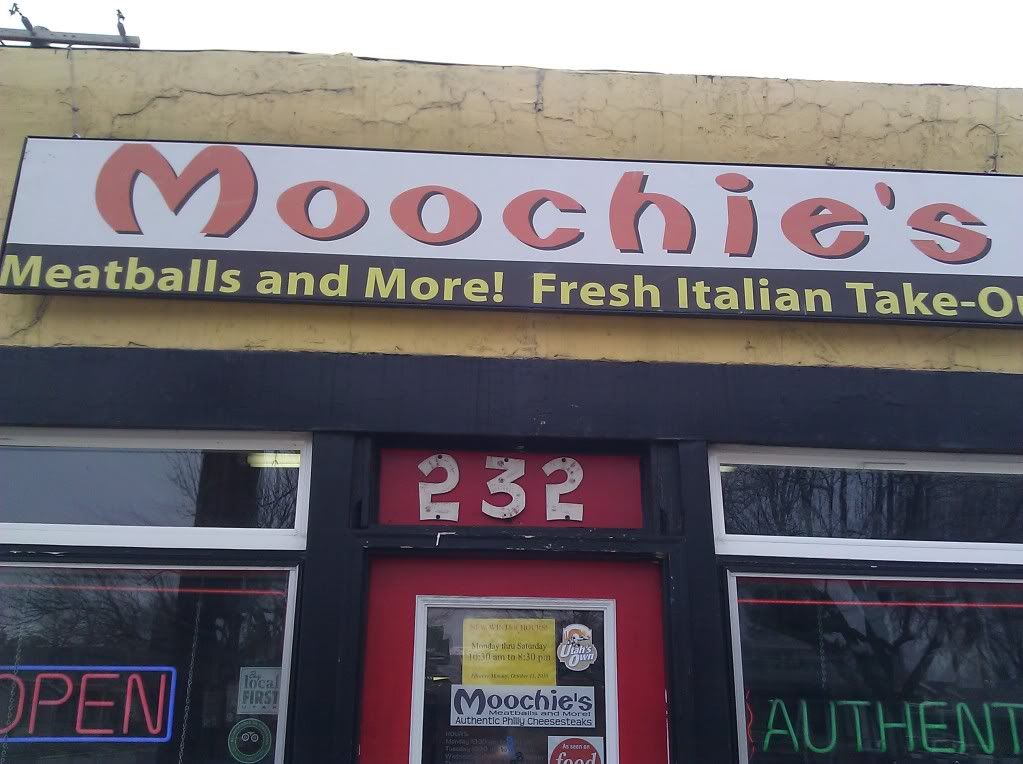 Knowing that this place tends to draw a crowd, I thought I'd get here at about 2pm after the lunch crowd had died out to see if I couldn't come at a slow time of day. Unfortunately, it was still fairly busy even at 2, and when I left at 2:30 it hadn't slowed down. The seven tables inside filled up quickly and rotated slowly, but they also have outdoor seating as well. Although they have but one cash register (which is typical in the Philly Cheese steak places I've been to and is a necessity with the square footage), they also had an extra person taking orders while the other one both took orders and worked the register. This really helped speed up the amount of time people were in line and made what would have been a long wait very manageable.
Right after my John Hancock made it to the credit card receipt, they called my name and my order was ready. If I was in a position to order to go, I would have done so since the place was crowded; however, it didn't take long before a table opened up. After pulling off the brown wrapping paper and aluminum foil covering my Philly, I dug right in. I was a little surprised and, perhaps, disappointed when I felt a harder bun covering my Cheese steak rather than the softer one I was used to at other locations. I was also skeptical about the American cheese rather than my typical Cheese wiz order. However, that's probably why I'm a critic and not a chef. Although the outside crust was hard, the inside was as soft as I like. The crust didn't detract from the sandwich at all but really added to it since it added extra texture that combined well with the rest. As for the American cheese, it was creamy, blended well with the rest of the meat, and as I ate the sandwich I didn't miss my Cheese wiz at all. Part of the secret to their great sandwich is that they put the cheese on top of the meat while it's cooking which allows that cheese to melt and blend with the meat whereas at other times it's placed on top as an after thought and doesn't always blend well. All this included with their tender rib eye and longer strips of well cooked onions makes this a winning combination.
I really enjoyed the Philly and look forward to then next time I visit Moochie's Meatballs and More. Now that I've had my usual Philly and know the quality that comes from here, I'll have to try something with their marinara sauce (which also looks great and makes my mouth water thinking about it). And, of course, I'll have to dig into a meatball or two.
$9.49 = 12' Philly Cheese steak
Notable URLs
Diners, Drive-ins and Dives Youtube video: